As I've written, Fast Fix Web Design is offering both Free Pre-Built WordPress Websites and our Pre-Built Website Models for sale but we don't offer them as THEMES. In our opinion, these pre-built dummy websites  have little to nothing to do with the quality of the underlying theme. I just had a round of correspondence with a client prospect who was having issues using Elementor to build pages in a crappy "theme" that was, IMO 🙄, simply built to accommodate the set of pre-built demos the author used to promote the theme, not to be a great theme. The client, like most clients, had no experience with any other themes so had no idea of the conflicts that are introduced when a them has a sidebar that gets in the way of the way that Elementor builds their page. In particular, Elementor is built to be completely responsive and has 3 views, Desktop, Tablet and Mobile where the page designer can save specific settings to achieve the desired look on every page. The problem is that Sidebars are built expecting to fit with Theme specific pages., not page-builder pages.
In my experience, thus far, an exception is when a talented theme author like Andre Jutras at Shaped Pixels builds themes that are designed to mix content and sidebars. Two of his recent themes, Receptive and Shaped Pixels, have an exceptionally full-featured Front Page built with a large number of both Sidebars and "Sections" that pull content from pages. I found that the pages, like most sidebars don't work well if built with Elementor. It looks to me like JavaScript conflicts are introduced because both Elementor and the Section Pull Pages use JavaScript injection.
On the other hand, Andre also includes a Content section option and that section works perfectly with Elementor. And, Andre also always includes a Page Builder template that is specifically for adding pages to sites using something like Elementor. Finally, his template pages can be easily edited for specific very unusual building needs, For instance, I needed to create a specific page template, in order to build the ICS Tech Pro site for the specific, unusual page layout needs of pages that include a header slider, multiple sections with fixed background images and a complex flip and click to Slide Show bottom piece. 
The point is that it is, IMO 🤔,  a bad idea to buy themes for the pre-built demos that come with them. It is far better to either (a) choose a full-featured, powerful theme that works great by itself or with a Pagebuilder or (b) choose a simple theme like Generate Press that comes with a full width and hide title option that make it perfect for a 100% Elementor site build. 
Now, let's sandwich in a typical XYZ Themes for The Serious ABC and DEF Blogger home page look built with Elementor.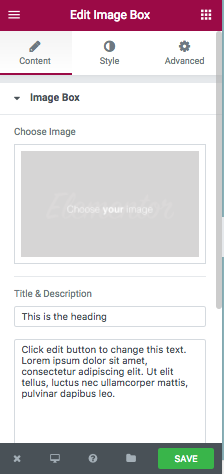 Image Box Widget
The majority of these pages have a series of images with text off to the side that alternate the image side going down the page. Elementor gives you an easy way to do that with the Image Box Widget. It even comes with a point and click position option that allows the choice of text position next to the image.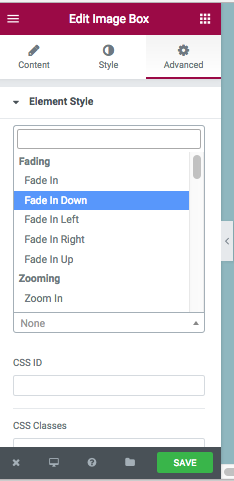 Section Animation
The majority of these pages also use some kind of animation. Elementor offers you, once again, easy point and click animation. We're using Fade in Down for this section. And we used Fade in Left for the section abovel.
Easy WordPress Website
The majority of these "themes" that are really just a box of pre-built pages are obsolete. The right way to build these sites is with a solid professional theme and Elementor pages and Elementor Templates!