Of course, our home state is Minnesota. We only came out to the Boston area for my partner, Pat, to complete an executive management assignment. During that time, I've built up our WordPress Website Design and Development business as the principle WordPress developer.
As we open our MN based office, the first thing I noticed is that Craigslist Posts expire after 45 days. In Boston, our WordPress Website Developer posts expire every 7 days. It will be interesting to see if that is a good thing or a bad thing!  ?
But the quality of the ads is pretty much about the same for Minnesota WordPress Developers as it is for Boston WordPress Developers: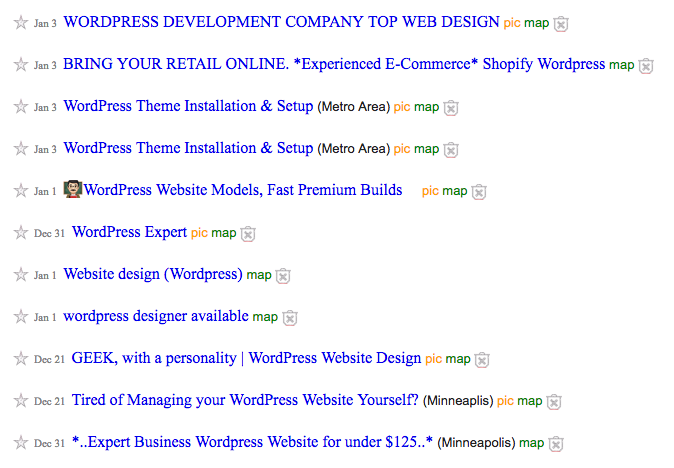 Just like in Boston, I wonder at the skills of these people. They don't seem to know how to use basic HTML in their Craigslist ads. So how can they be good WordPress developers?
I suppose that I already know the answer. One of the reasons that there are so many "WordPress Developers" is that anybody with a lot of WP GUI experience and a talent for color schemes and imagery can do decent WordPress site builds!
On the other hand, Fast Fix Web Design, piggy backs, off or my decades of experience as both a WordPress and a straight up php/html/css/javascript website developer. I expect to see the business build up nicely over the coming years in MSP (Minneapolis-St.Paul).